Welcome to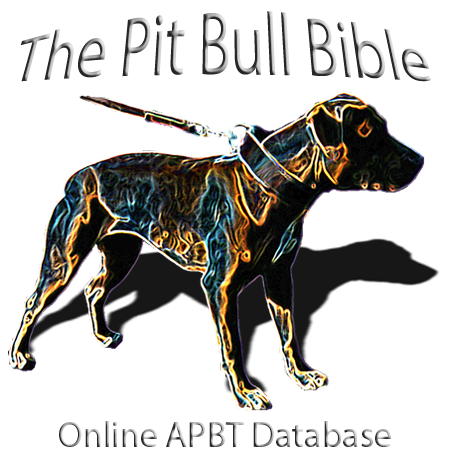 Your #1 Online Resource for All Things APBT
The Pit Bull Bible Online APBT Database is designed to be
the
premier online resource for bulldog fanciers all over the world. We are continuously developing this Resource, in depth and in scope, as the days (weeks, months, years) unfold. Ultimately, there will be no APBT resource like this anywhere. In order to show your support for this effort, as well as to enjoy the full benefits of this Database, there is
a $30 yearly membership subscription
, which will grant you access not just to
The Ultimate Pedigree Database
... as well as our private,
First-Class Discussion Forum
... but also to the full and unabridged Pit Bull Bible (which is now being posted for free in the form of various
articles
,
video tutorials
,
drug indexes
, etc.).
These reference materials are growing and being added-to every day
, so if you're not a member yet you're missing out! In a nutshell, if you're serious about this breed, The Pit Bull Bible Online APBT Database is
the
place to be to discuss our favorite subject,
bulldogs
, in a 100% friendly and congenial atmosphere. If that sounds like what you've been looking for, then come on over and join us. To do so, please first
Register
and then
Subscribe
(in that order).
~ California Jack, Website Owner